Once again, it's been 12 months of far-flung swimming adventures and zero (yes, zero) blogging. My profuse apologies.
In fact, avid followers of the WAPQ (the World's Awesomest Pool Quest) would note that not only did I fail to make a single update in 2019, but 2018 too. Rest assured aquatic friends, all is well. 2019 saw another 36 new pools conquered bringing the total to 532. I re-conquered a number of pools I'd last visited 20 years ago and for a brief 15 minutes the media caught the aquatic passion and rode the wave of madness that is The Quest. Yes, heady stuff.
Now, read on for some of the more spectacular highlights.
Pool Of The Year (POTY)
Back in 1989, in my early Rock & Roll days, I moved to Lismore to follow the muse and live the Bohemian life (I was back in Sydney within 4 months, but that's another story). I travelled around a bit – I've lovely memories of catching the rattling, near-empty train to Byron Bay, a route no longer open except on special occasions – but I never got to Murwillimbah. It wouldn't have mattered if I had, because the pool that's there now was still 20 years away from being built.
It's gorgeous. Jaw-droppingly so – and trust me I've seen a few in my time. If you're in northern NSW, it's worth dropping into Murwillimbah.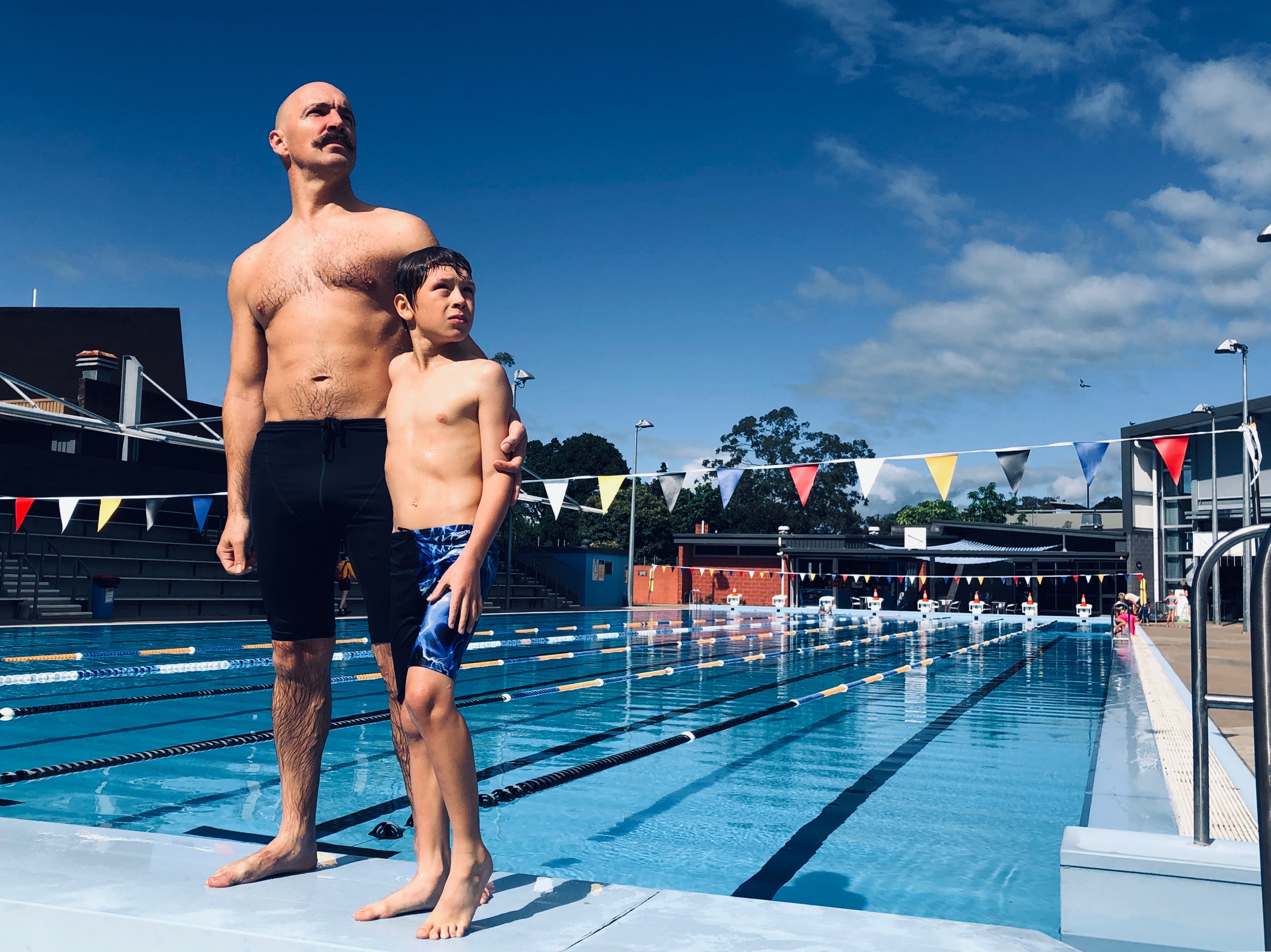 Best Ocean Pool (BOP)
I'm cheating here. I hang my head in shame and confess – it hurts even to write these words – that I did not conquer a new ocean pool in 2019. In my defence, it's getting much harder to do. You won't read any spoilers here, but I will say that the number of unconquered ocean pools in this country (that I'm aware of) is less than pieces on a standard pizza. And they're not building any more.
So, here's one I re-conquered. The Entrance Baths. As a side line, this was the photo the German press used (Spiegel, der Zeit etc.) in their article on the 100th anniversary of Aussie ocean pools.
'Sure, it was,' says you. 'Ja,natürlich,' sage ich.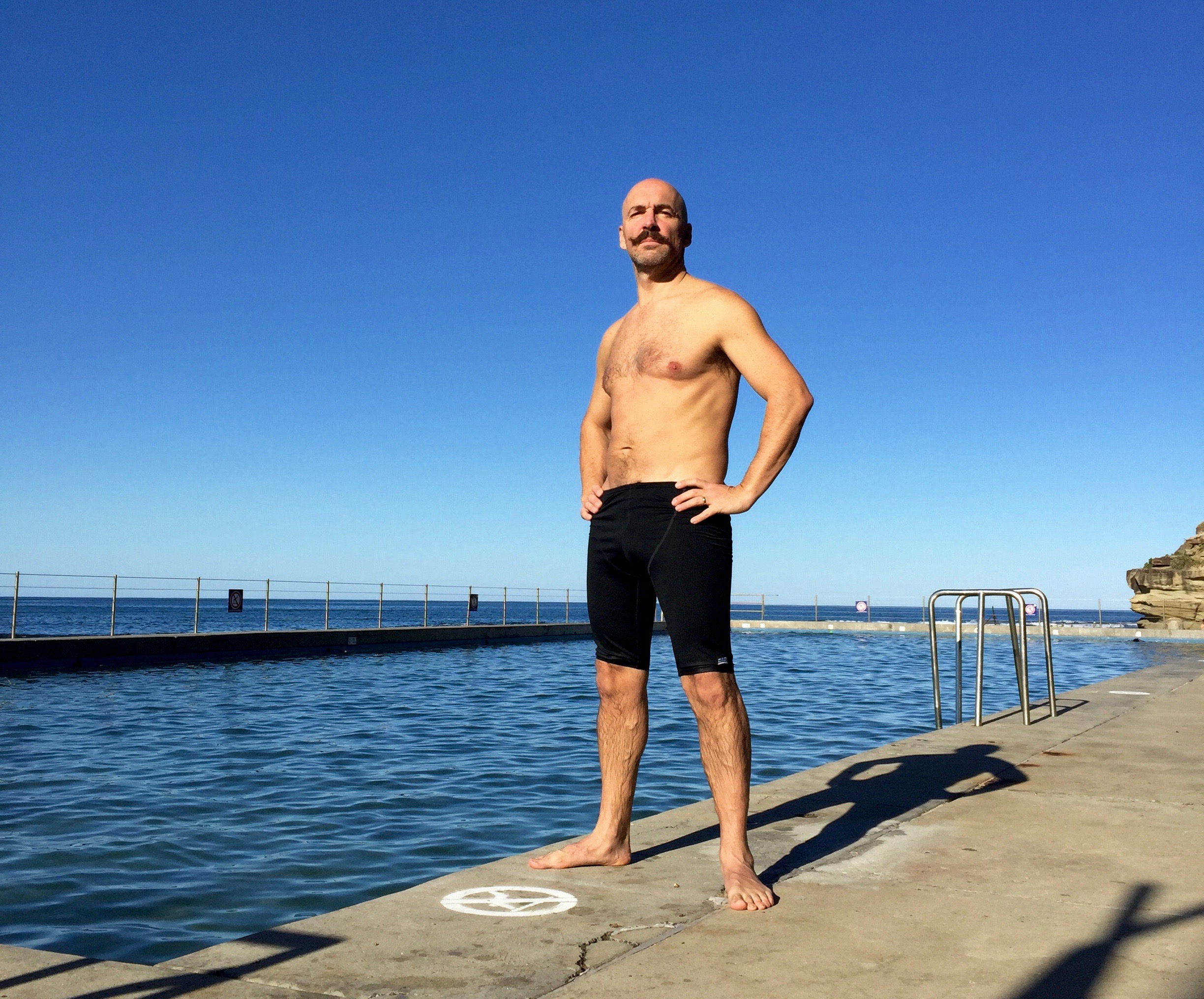 Most Make-Up Worn. MMUW
A new category and one which not one, but two pools could have won. Frankly, I can't choose. I'll leave it up to you.
Firstly, Gene Simmons' birthday. For years I've wanted to celebrate significant days by somehow donning dress-ups or getting into character and being a big fan of make-up (that's yet another story) Gene Simmons' birthday seemed a natural fit. It was August. It was freezing. But it was worth it. Location here
Secondly, May the 4th is Star Wars day. I couldn't get a lightsaber to glow underwater, but the mask was easy enough. Malabar pool. Gorgeous day. Why not?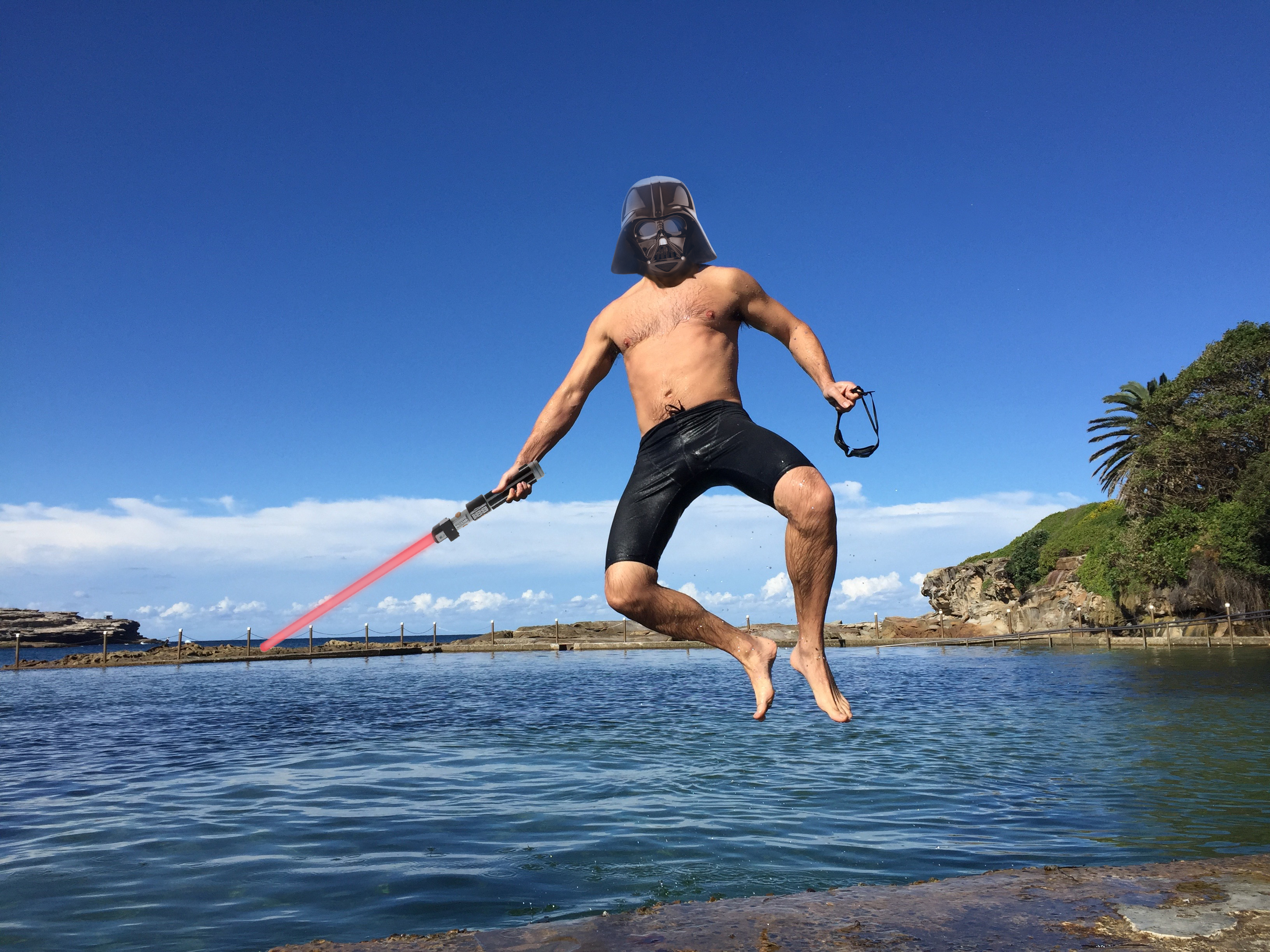 Reconquered Oasis Of The Year (ROOTY)
The Quest began in 1993. There was no internet or selfies or GoogleMaps then – if you can imagine – and all I had in those early days was a head of golden locks, a Gregory's street directory on my lap, and a dream.
Consequently, vast numbers of pool conquests have been lost in the mists of time, recorded solely by a hand-drawn map. It's time to re-visit these old haunts. A few have been dug up and replaced with a supermarket but such is our nation's love of swimming that overwhelmingly, when I return, a beautiful new pool greets me. In 2019 I re-conquered 12 pools.
Hornsby wins. Just look at the water.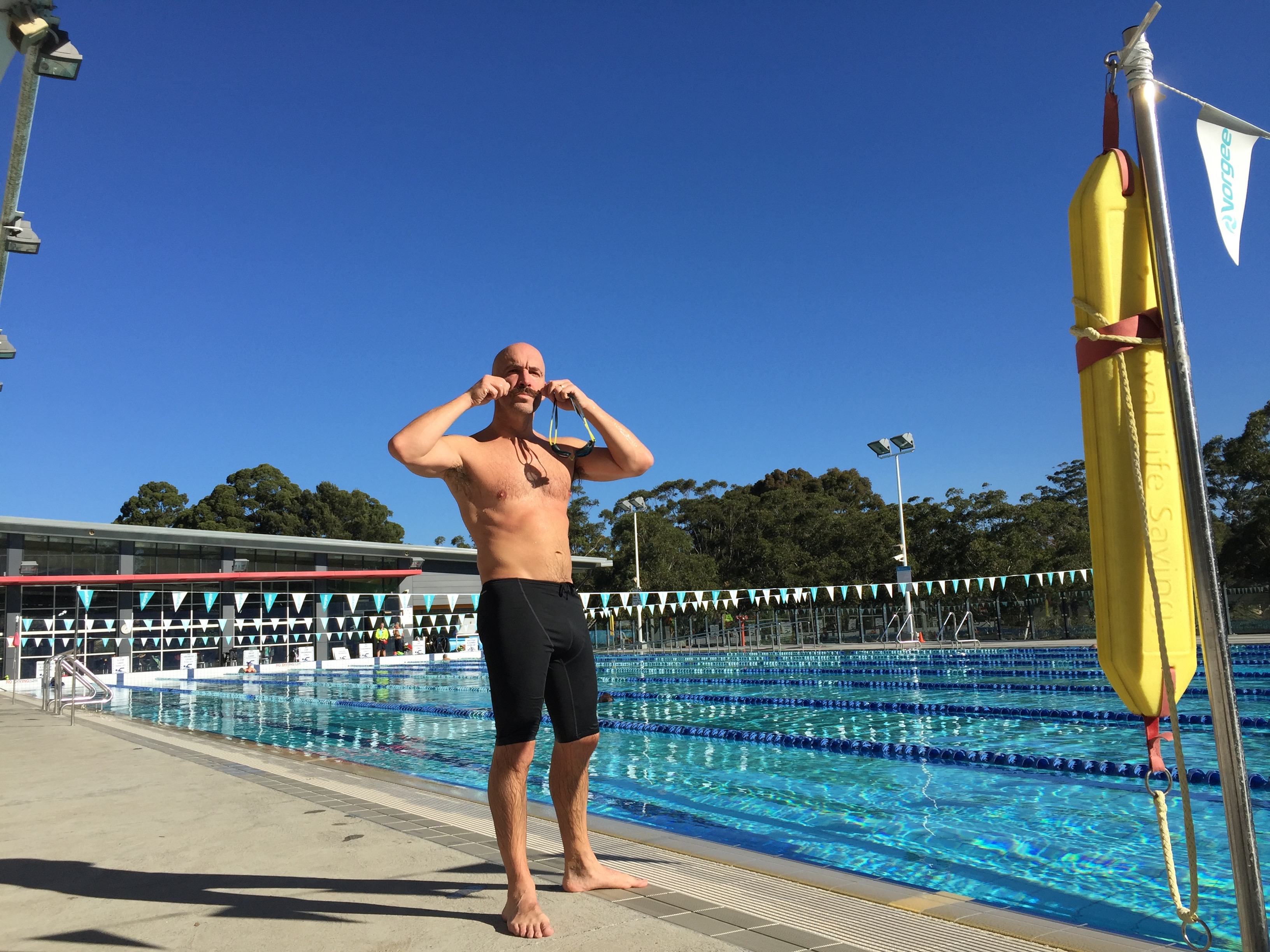 Most Significant. (Soz, no acronym)
Not hard to choose. In early January, I conquered Pool #500 (and had a cake to celebrate).
Yes, it's taken 26 years to get to this point so it was with both a sense of deep satisfaction that I'd gotten this far and a slightly daunting notion that I still had 500 to go, that I plunged into Cowra pool in central NSW. Despite the overcast weather, I'm sure all present knew in some spooky way it was a special day even if they couldn't exactly put their finger on it (a bit like the residents of Bethlehem on the night Jesus was born, I think you'll agree). But I didn't make a fuss. I swam it, took the photos, and left.
And if you know me, you'll know I won't be back.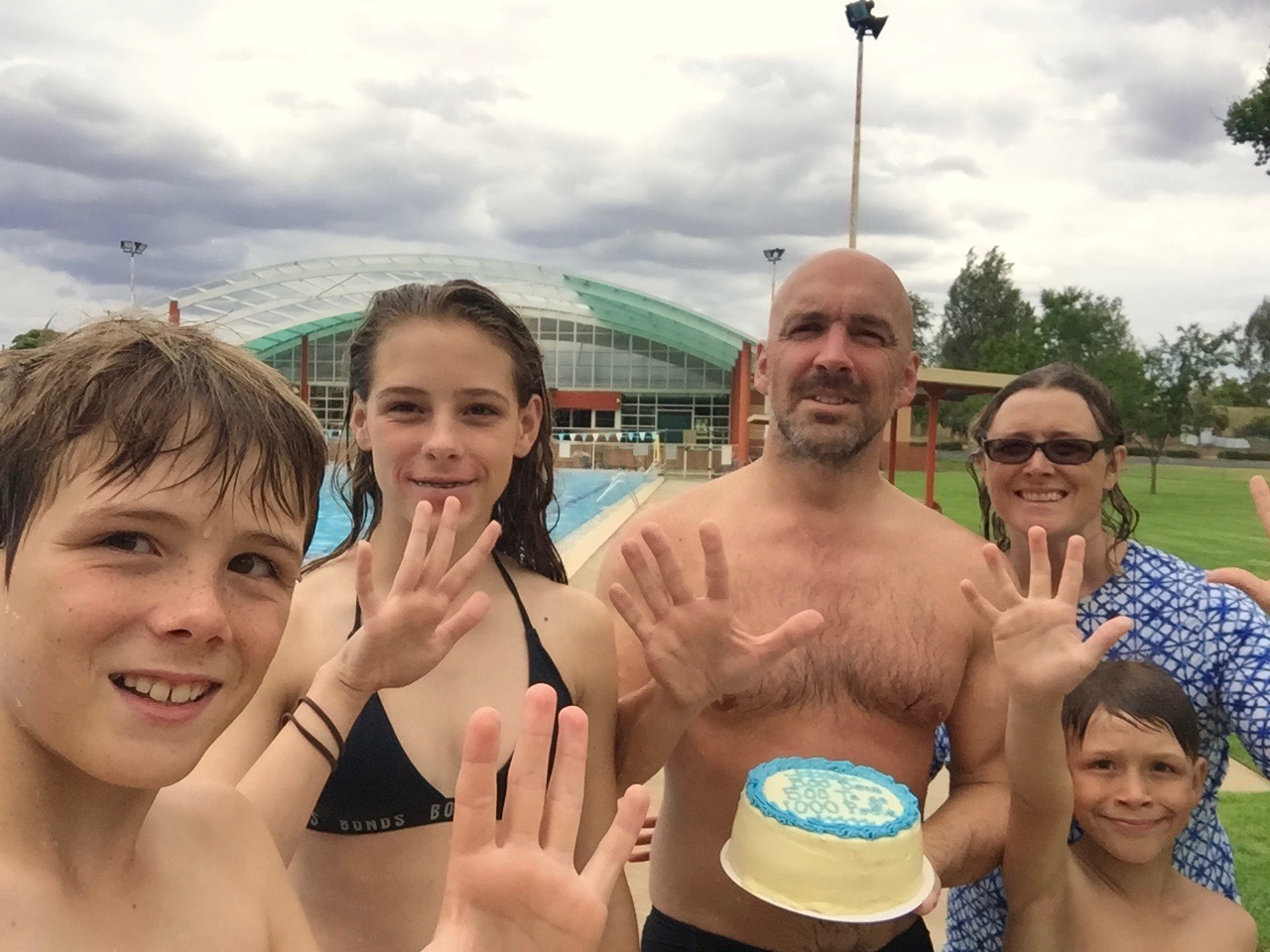 That's 2019 in a nutshell. Once again, let me apologise for the tardiness in keeping you up to date with my progress. As I always promise, this year I'll do better. Meanwhile, get wet. Swim onwards and ever upwards (though not literally, of course.) Breathe in the chorine. Embrace its mind-muddling qualities.

I'll see you on the pool deck.
Aquatic Regards, Kenton